Shear Conveyors & Stackers
Canrack Metal Center Systems offers shear conveyor systems for both sheet and plate shearing applications. Some specialized Shear Automation systems have also been developed for operation with shears that cut both plate and sheet.
Traditional shearing can require more than one operator and most times mean operators must clear the back of the shear manually below ergonomic elevations.
A Shear Conveyor installed at the back of a shear will move blanks out from behind the shear blade and will also support the material which is being sheared to the back gauge. This eliminates the need for an operator to be behind the shear which is a safety hazard and slows down the shearing process. The shear conveyor improves ergonomics by eliminating the need for an operator to be constantly bending down to clear blanks or scrap. Shear Conveyors by Canrack Metal Center Systems have optional scrap chutes which separate trim cuts from usable blank cuts. Operators do not waste time sorting at the back of the shear.
Shearing the Old Way: Without a conveyor operators are required to manually sort trims and pieces on the floor
Plate Shear Conveyor with support arms to support material to the backgauge
Canrack Metal Center Systems also offer Shear Stackers which when combined with a Shear Conveyor improve safety and productivity as the operator no longer is required to manually stack blanks and work near the shear.
Shear conveyors can increase shearing productivity up to 50% while reducing scratches normally produced on a traditional setup. A Shear Conveyor and Stacker at the back of any shear will not require an operator at the back of the shear to catch blanks or provide sheet support.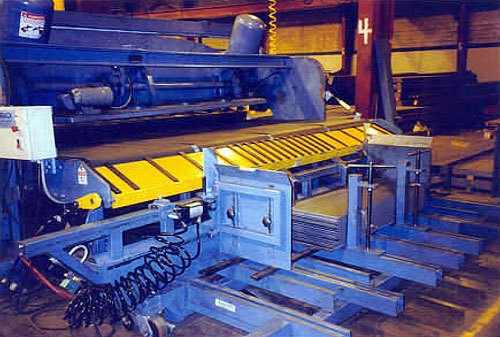 Sheet Shear Conveyor for scratch free shearing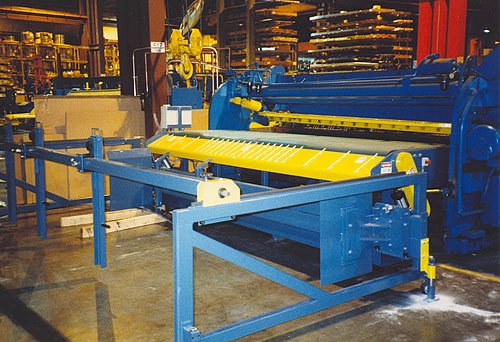 Sheet conveyor with stacker to make accurate cut stacks
Canrack Storage Systems is more than a product catalog.
We take pride in creating the perfect solution to our customers' steel storage and processing needs.
Get in touch today to begin discussing your options for a safe, reliable custom metal solution for your business.